Improving the database structure
Integration of new information: socio-economic data, building scenarios on future withdrawals, the results of projected simulation provided by PM5.
Collection of tabular and spatial information which greatly improves the flexibility and facility of using and maintaining the database.

​Migration of the MSACCESS database to the PostgresSQL database
For the following reasons:
Integrate the spatial information in an adaptive way to the PostgreSQL database: the MSACCESS-PostgreSQL migration is the only means to avoid redundancy and ensure coherence between the two types of information.
Enable data sharing in a client/server environment and resolve the problems generated by the operation of the system on autonomous workstations.
Have more reliable and secure information.

Database Update and Reliability
Integration of the data obtained since 2001: water points, withdrawal, static levels…
The TC contains superior stoneware and turonian
Aquifer

Country

Withdrawal hm3/year

2000

2010

IC

Algeria

687

1093

Libya

106

154

Tunisia

70

83

IC SASS

863

1330

TC

Algeria

669

815

Libya

129

142

Tunisia

490

486

TC SASS

1288

1443

Total Withdrawal

2151

2773

Evolution of water withdrawal between 2000 and 2010
Information provided by the piezometric network and the water quality monitoring network



Aquifer

Country

Number of used forages

2000

2010

IC

Algeria

789

2078

Libya

437

609

Tunisia

101

275

IC SASS

1327

2962

TC

Algeria

1123

2003

Libya

209

350

Tunisia

532

5300

TC SASS

1864

7653

Total Withdrawal

3191

10615

The total number of forages in 2010 in Tunisia includes the forages called before "the soundings group".
Improvement of the data management tools (SAGESSE interface):
Adaptation of the new interface to the new structure of the database and new storage format of the PostgreSQL – PostGis databases.

Development of new features to integrate new needs: scenarios management, statistic request, multi-criteria research, …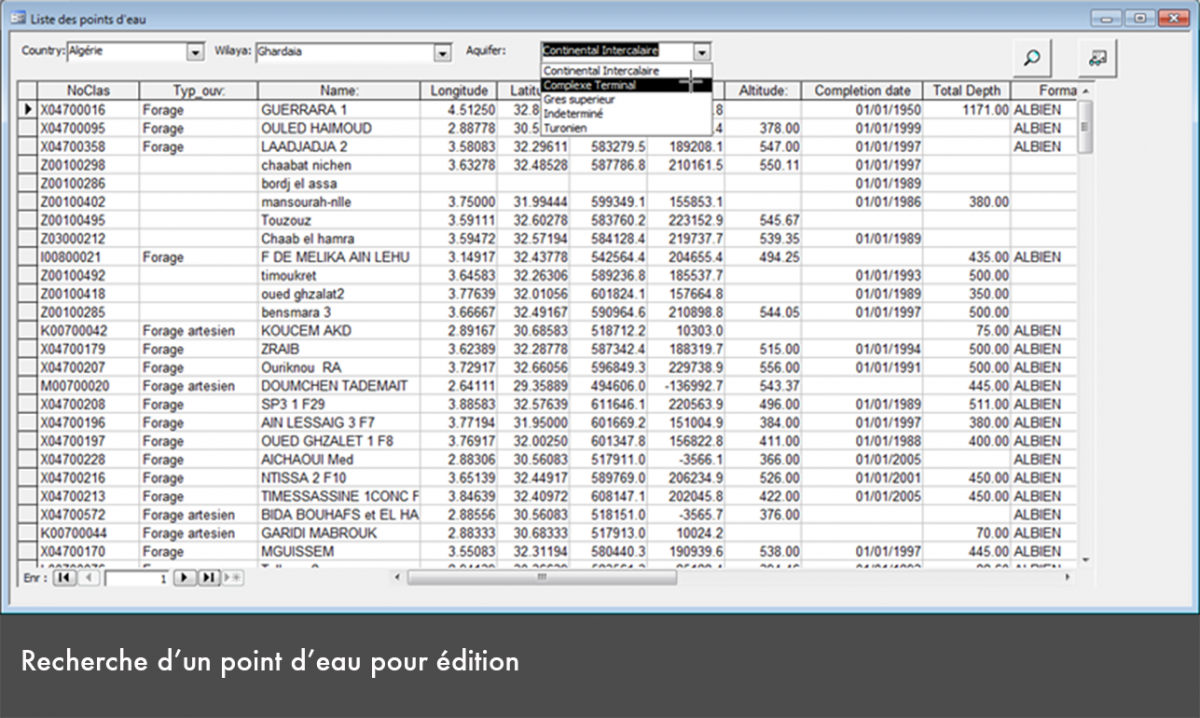 Establishment of the information management forms issued by the monitoring network (Piezometry and quality).

Improvement of the updating and information exchange devices among partners:
Standard exchange format based on the XML language,
Use of the OSS's FTP server to update the common Database of the SASS project

Updading of the GEOSASS cartographic server and its adaptation to the new database:
Use of simple, new and easy tools,
Possibility for the user to formulate specific requests
Display of the information generated by the monitoring network.