During the last four decades, Tunisian oases mainly those of the governorate of Kebili (test site of pilot 5) have benefited from several development strategies and programs, namely the Water Master Plan in South Tunisia (Le Plan Directeur des Eaux du Sud PDES) that aims to establish a program for groundwater mobilisation and valorisation.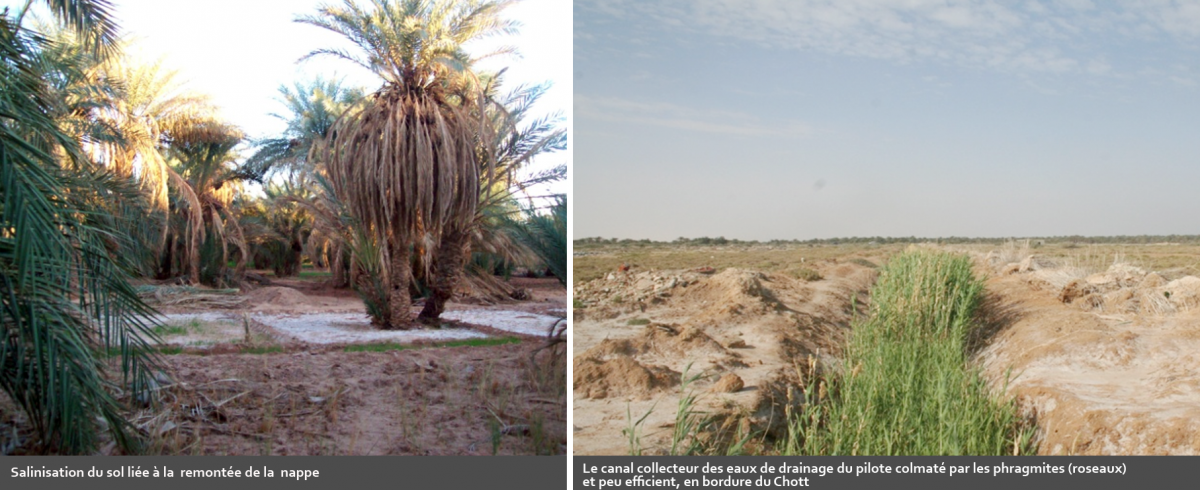 This plan was carried out following the study conducted by the UNESCO on the SASS region. It is within this study framework that the oasis of Jedida was created in Tunisia. In 2005, an area extending over 23 000 ha has also benefited from a program aiming to improve irrigation in the Southern Tunisian oases (APIOS project). This program consisted of replacing old water distribution channels with other concrete channels in order to control and reduce water loss during transportation and distribution.
Following the development and extension activities of irrigated surfaces, the overexploitation of groundwater resources in the Tunisian oases (particularly at the level of the Terminal Complex) led to the salinization of irrigation water, a lowering of the aquifer's piezometric level, and the intrusion of the "chotts" saline water into the oases.
Moreover, stretching along the borders of "chott Djerid" and often irrigated with saline water, most of the Nefzaoua Oases (Kebili) suffer land degradation and even soil fatigue especially in the old oases. In fact, the use of saline water for irrigation has led to several problems of soil degradation and salinization intensified by the use of an insufficient and improperly-maintained drainage system.
Given the importance of the physico-chemical composition of soil in agriculture and the negative impacts of the rise of the aquifer level and soil salinity on the general behaviour of the oases, it was deemed necessary to adopt efficient agricultural techniques that would improve the quality of soil. Hence, the establishment of an effective drainage system in this pilot was a priority to combat high salinity by using the soil washing techniques and avoiding the rise of the aquifer level. This operation was reinforced by other interventions, namely in terms of fertilisation and irrigation water management.
Soil drainage, on which depends the productivity and sustainability of date palms, has become a priority in the oases (especially for those located on the "chott" edges). The site selected for this pilot encompasses the major problems confronted by the continental oases. Thus, it represents a good example to testify and implement development and professional techniques and strategies which would be replicated and generalised later for the entire set of oases. For this purpose, solar-powered pumping was the main technique adopted for the present pilot.